"The rumble of the big guns jarred Kenny awake. He hadn't had much rest, dozing in and out of troubled dream-slumber for five hours. Like everyone else in the platoon, he'd slept in his combat utilities so he wouldn't have to dress. When he'd first joined up, Kenny had thought "utilities" was a pretty odd name for combat clothing, but now it was just familiar old jargon."  – Every Shape, Every Shadow

DEEP WATER
In the early days of the Cold War, investigative reporter Jake Weaver runs afoul of a multinational corporation and powerful banking interests while proving they took huge illegal profits from the Nazis during World War II. Meanwhile, his friend, Marine Corps officer Kenny Nielsen,
Read More…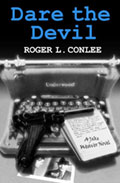 DARE THE DEVIL
Roger's historical novel "Dare the Devil" paints a compelling picture of the violent turf wars waged by Los Angeles crime lords Bugsy Siegel, Mickey Cohen and Jack Dragna in the city's turbulent postwar years, and the brave reporter who risks his life writing about them. "Dare the
Read More…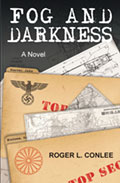 FOG AND DARKNESS
A Marine Corps officer and a war correspondent hope to have the courage and luck to live through the horrific final year of World War II despite unimaginably savage battles and constant danger of other kinds. Historic figures such as President Franklin D. Roosevelt, Generals
Read More…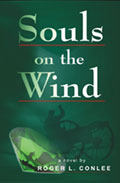 SOULS ON THE WIND
Roger's fourth novel, this thriller with a dusting of science fiction features a devoted couple determined to do the right thing with an Austrian Crown Jewel suddenly in their possession. With what seems like supernatural help from a long-dead Civil War general
Read More…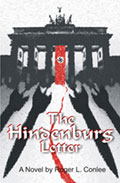 THE HINDENBURG LETTER
An impetuous reporter for William Randolph Hearst risks everything to steal into Nazi Germany during World War II on a desperate mission of family revenge — one that might cost him his life. He encounters Wernher von Braun, Hermann Goering, and a beautiful spy he can
Read More…
COUNTERCLOCKWISE
Though he doesn't really believe in time travel, a California cop and his fiancée nevertheless slip through a seam in time. They find themselves in a war-jittery 1942 Los Angeles – disoriented, friendless and suspected of spying for an enemy that has just bombed Pearl Harbor
Read More…
EVERY SHAPE,
EVERY SHADOW
This accurate but fictionalized account of the Guadalcanal campaign of World War II is seen through the eyes of the Marines' commanding general, his enemy counterpart, a tormented Navy nurse, and a Japanese dive-bomber pilot.
Read More…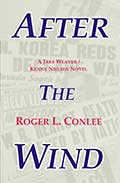 AFTER THE WIND
Following the death of newspaper mogul William Randolph Hearst, ace reporter and editor Jake Weaver finds himself a murder suspect while trying to help Hearst's lover Marion Davies receive her fair share of the old man's fortune.
Read More…
LION AT TWILIGHT
In 1953, British Prime Minister Winston Churchill vanishes and Whitehall goes into panic. Has the old lion, now 79 years old, been kidnapped? Or murdered?
Read More…